Lowest Mortgage
Rates in Canada
Free Quote Referral Service
Fill One Form, No SIN Required, 100% Free
Compare Real Offers
Get the Lowest Rate
Get Free Pre-approval
About our service
MortgageRatePros.ca is a free referral service created to help Canadian borrowers to choose from a variety of loan products available today. We are proud to deliver the best offers from up to 150 mortgage brokers in our network.
How it Works
1.Fill out one short form.
2.Receive offers in 24 hours sometimes minutes and choose the Best One!
We will find up to 5 most suitable matches for your home financing needs. Our secure automated system redirects your information to participating broker members and you could receive up to five real loan offers within hours.
MORTGAGERATEPROS
FINDS YOU A CANADIAN LENDER USUALLY WITHIN THE HOUR IN YOUR AREA.
YOU CAN GET APPROVED FAST AND EASY!!!
We have 2 guests online
Your Privacy is Our Top Priority.
Information you submit is Strictly Confidential. We use SSL Secure Protocol for data transfer.
Participating mortgage brokers may be able to close your loan in 3 weeks upon receiving all documents required to underwrite the loan. Accessing this web site, you acknowledge that you have read and agree to abide by the Terms of Use. This mortgage referral service is FREE. You have NO obligations!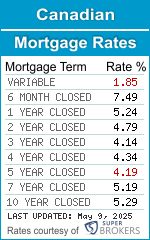 Testimonials
This is great site and quote system was very useful. I got called within 15 mins and got approved"
- Brent F., Toronto Ontario

Thanks. Within minutes I got the right agent that refinanced my mortgage. Saved me tons of money. i got rid of my bills and pay less than before.
Don K, Mississauga Ontario
"Woow. Great rates and costs of my mortgage are much lower than others were quoting me. I highly recommend..."
Marie N., Toronto
"Thanks got a call within minutes of submitting the form. Got my mortgage approved and with amazing terms on my mortgage! Thank you so much!"
Sandra L. ON
"Big thanks for this website. I got a call in minutes and got approved for my first mortgage with poor credit.
Jathinder  First time home buyer B.C.

Most definately  recommend this web service. Saved me thousands on my mortgage.!"
David, AB